Dentistry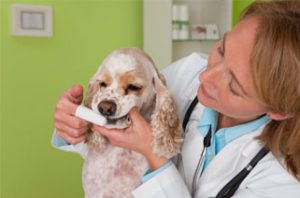 Dentistry can enhance the quality of life for your pet. During your pet's annual or bi-annual physical exam an oral exam is performed to look for dental tartar build-up, infected or loose teeth, sore areas or any tumors in the mouth. A dental report is filled out and given to you to explain where your pet stands on dental disease.
Proper dental care is as important to your pet's health as it is to you. If you notice bad breath, oral bleeding, pain while eating, or excessive drooling your pet may be suffering from periodontal and dental disease. A dental prophylaxis can prevent infection from spreading through your pet's blood stream to their liver, kidneys, and heart. This is done by our well-trained technicians under general anesthesia using the same anesthetic and careful monitoring techniques that we use in surgery. Depending on your pet's age, pre-anesthetic blood work and an intravenous catheter and fluids may be necessary. The procedure begins by scaling the teeth with an ultrasonic scaler. Each tooth is examined looking for loosening or severe infections. Keep in mind that any loose or fractured teeth will be removed by the veterinarian for your pet's comfort. Next, the teeth are polished and then coated with a product called Oravet (www.oravet.com). Oravet seals the teeth helping to protect against future bacterial attachment slowing plaque and tartar build up. This Oravet application is continued at home weekly. However, for those pet owners that may have difficulty applying Oravet at home, our assistants will be glad to do it for you at no extra charge.
We also invite you to browse our dental retail area for products to help maintain a healthy mouth at home.